Surface preparation
Removal of the existing, damaged coating and preparation of the concrete substrate by abrasive blasting for application of the coating.
Application of masses
Applied Products:
POLYGLASS WCP; VINYL ESTER POLYMER CONCRETE; RENDERPOL; GRAPHITE S; CORROFILL VE; AR LR + QUADRAXIAL CLOTH 600 g/m²; CORROGLASS AR4
Applied coating systems:
NS1 = 6 000 μm DFT
Applied substrate:
Inner parts of the sump; Concrete; 1 x 55 m², 1 x 53 m²
Procedures:
preparation of the concrete surface by abrasive blasting
application of POLYGLASS WCP primer
applications VINYL ESTER POLYMER CONCRETE
application of RENDERPOL filler material
application of electrically conductive GRAPHITE S
application of CORROFILL VE filler material
application of laminating layer AR LR + Glass cloth 600 g/m²
application of the final layer CORROGLASS AR4
carrying out the relevant quality tests according to the PKZ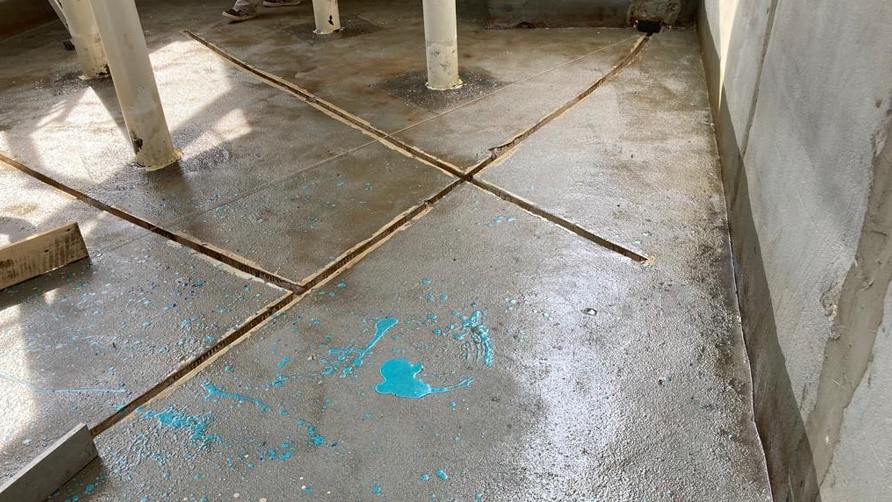 CORROTECH ENGINEERING s.r.o. provides highly professional services in the field of surface preparation and application of special coating systems for the most demanding stress environments and various industrial equipment. The CORROCOAT AR coating system, filled with special glass microflakes, is the ideal choice for protection in highly alkaline environments, protecting the concrete substrate from degradation in the long term. CORROCOAT Graphite S, an electrically conductive coating, was used as part of the coating system, which allowed the integrity and porosity of the coating to be tested by high-voltage testing even on a non-conductive concrete substrate.
CORROCOAT has been successfully fighting corrosion for more than 45 years. It uses innovative mechanical engineering combined with anti-corrosion technology to provide long-term protection for both new and damaged equipment. It uses special composite and structural coatings in conjunction with technical processes to individually address corrosion problems. With a focus on quality, refurbishment procedures are a proven, cost-effective weapon to win the battle against corrosion in the long term.